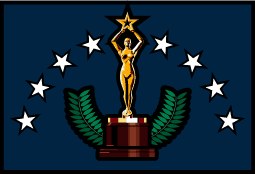 Nation of Hollywood
---
The Nation of Hollywood is comprised of what was the state of California and parts of Nevada. It is considered one of the most glamorous nation of North America, though it's rivals would call it flashy.
Hollywood declared there independence from the United States on October 6, 1930 but remained control of only the lower part of the old state of California until recently. By taking advantage of Pacificas on going fight with white russians out of Alaska Hollywood forces reclaimed the northern have of California relatively easy.

More than any other nation Hollywood is plagued by frequent pirate raids. The Nation of Hollywood is vitally surrounded by pirate havens, from Desert pirates out of the Arixo and Mexico to the pirate sanctuaries of No Man's Land and the Coastal Islands. Though with the recent defeat of desert pirates out of Mexico, notable the large Diamondback squadrons, pirate raids might be letting up, if only a little. Other concerns of the Nation of Hollywood are the recent attacks by Mexico at San Diego and numerous skirmishes with the Skyhawks of Pacifica. Yet there biggest concern is there economic struggle with the Empire States. With recent threats of embargoes on motion pictures, Hollywood's chief export, by President LaGuardia of the Empire States tensions are extremely high.

---
Statistics
Name - Nation of Hollywood
Capital - Los Angeles
Government - Democracy
Head of State - President Madison
Land Mass - 165,252 square miles
Population - 6,944,136
Prohibition Status - "Wet"
Major Exports - Motion Pictures and Aircraft
Minor Exports - Manufactured Goods and Natural Resources
Major Imports - Food Stuff, Helium, and Petroleum Products
Minor Imports - Cash Crops and Manufactured Goods
Aircraft Companies
Avion, Inc. - Los Angeles
Fletcherr Aviation Corporation - Pasadena
General Airborne Transport, Inc. - Los Angeles
Harlow Aircraft Company - Alhambra
Hiller Industries, Aircraft Division - Berkeley
Hockaday Aircraft Corporation - Burbank
Hughes Aircraft Corporation - Culver City and Inglewood
The Lockheed Aircraft Corporation - Burbank
Northrop Aircraft, Inc. - Hawthorne
The Ryan Aeronautical Company - San Diego
The Stinson Aircraft Company - San Diego
Timm Sircraft Corporation - Van Nuys
Air Militia
The Hollywood Knights
Hughes Air Guard

Privateers
Blood's Banshees - Captain Peter "Banshee" Blood
Pirate Groups
Yosemite Brotherhood
Red Dragons - Prince Vlad

---
Back to map room