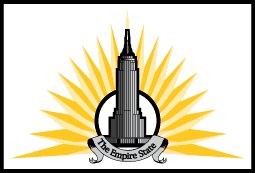 The Empire State
---
The Empire States is made up of what was once the states of New York, New Jersey, and Pennsylvania. More than any other nation the Empire States have gained the status as the continent's leading political power and chief trading center. The Empire States chief rival is the ISA to the east, though it might be shifting with recent raids from the south by the Confederation of Dixie. Another rival oddly enough is a continent away. The Nation of Hollywood is envious of the wealth and prestige of Empire States which has create friction between the two nation and has gone as far as threating embargoes on motion pictures from Hollywood by President LaGuardia.

Life in the Empire States is centered around the four great cities, especially New York City which is often referred to as just "The City". With limited farmland and no where to expand the Empire States have had to imposes strict laws on growth of it's cities. With farmland being protected from industrialization the cities of The Empire States have grown up instead of out creating giant concrete forests.

For entertainment in the Empire States most enjoy listening to the Empire States Broadcasting Network to there favorite shows like "Paladin Blake and the Privateers" or going out to a Broadway show which is often prefered to motion pictures. Though there is a prohabition law it only prevents the importation or manufacturing of Alcohol.

---
Statistics
Name - The Empire State
Capital - New York City
Government - Plutocracy
Head of State - President LaGuardia
Land Mass - 109,255 square miles
Population - 37,529,487
Prohibition Status - "Dry"
Major Exports - Manufactured Goods and Airplane
Minor Exports - Airships and Food Stuff
Major Imports - Food Stuff, Raw Materials, Helium, and Petroleum Products
Minor Imports - Manufactured Goods, Airplan, and Airships
Aviation Companies
Brewster Aeronatical Corporation - Long Island City
Edward G. Budd Manufacturing Corporation - Philidelphia
Colgate Aircraft Corporation - Long Island
The Cunnigham-Hall Aircraft Corporation - Rochestor
The Curtiss-Wright Aircraft Corporation - Buffalo and Kenmore
Fleetwing Division of Kaiser Cargo, Inc. - Bristol
G & A Aircraft, Inc. - Willow Grove
The General Aircraft Corporation - Astoria
The Grumman Aircraft Engineering Corporation - Long Island
The Kellet Aircraft Corporation - Upper Darby and Philidelphia
Andovor Kent Aviation Corporation - New Brunswick, NJ
Luscombe Airplane Corporation - Trenton
P-V Engineering Forum, Inc. - Sharon Hill
The Piper Aircraft Corporation - Lock Haven
Platt-LePage Aircraft Company - Eddystone
The Republic Aviation Company - Long Island
Schweizer Aircraft Corporation - Elimra
Summit Aeronautical Corporation - New York City

Air Militias
Broadway Bombers
Madison Avenue Venturers - Loyle "Show Stopper" Crawford
Carnegie's Crusaders
Rockafeller' Rangers
Astor's Airmen - Jason "Draco" Kinart
Long Island Lancers
Albany Airman
Buffalo Borderers
Liberty Belles
Privateers
Black Swan - Natalia "Black Swan"
Sky hawk - Captain Neville
Pirate Groups
Adirondack Alleycats - Brian "Red" O'Reilly
---
Back to map room