---

Designer Notes - This aircraft was designed by Michael Scott, if you have any questions about this design direct the inquiries to him at the link provided.
---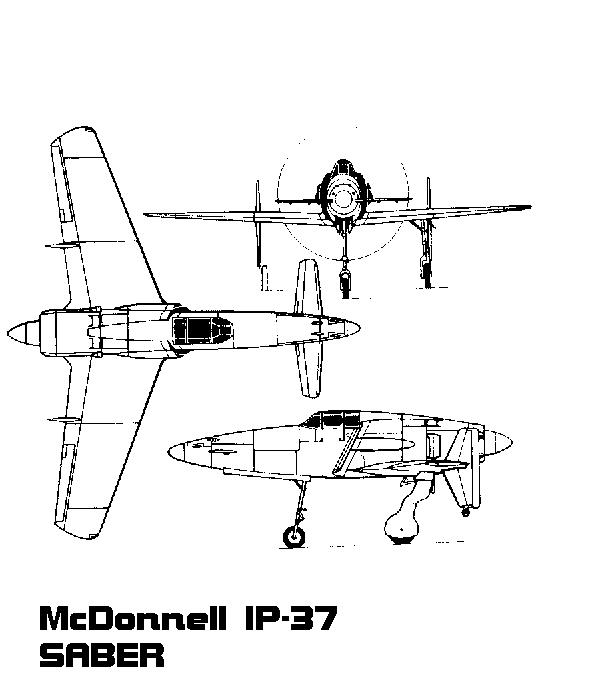 A blueprint of the McDonnell IP-37 Saber

"The Saber is one lean mean fighting machine."
- Major Alfred 'Duke' Iverson, Calhoun's Cavaliers

Name - McDonnell IP-37 Saber
Class - Fighter (Pusher)
Manufacturer - McDonnell Aircraft Corporation - Memphis, Tenn., Appalachia
Engine - Wright Cyclone (950 h.p.)
Loaded Weight - 8,250 lbs.
Service Ceiling - 22,000 ft.
Range - 528 mph
Max. Speed - 300 mph
Max. Accel. - 65.6 feet/second
Max. Decel. - 65.6 feet/second

Wing Span - 36 ft. 5.5 in.
Length - 31 ft. 8.25 in.
Height - 12 ft. 10.33 in.

Weapons:
(2) Sperry-Browning 'Hurricane' 50-caliber Cannons
(2) Sperry-Browning 'Gatekeeper' 40-caliber Machine Guns

Design History:
The McDonnell IP-37 Saber was designed to be a Fast Interceptor and Pursuit aircraft. Following on the successful heels of the IP-35 BANSHEE, McDonnell Aircraft has produced the more heavily armed and armored IP-37 SABER.

Role:
The SABER uses a Wright Cyclone 950hp radial engine rather than the liquid-cooled inline engine of the IP-35. To allow for the unique cooling problems, the SABER employs side-mounted intakes to insure maximum engine temperature control.

The IP-37 is intended for much the same markets as the smaller BANSHEE, but packs a heavy one-two punch with a pair of Sperry-Browning "Hurricane" .50 caliber machine guns in the wing roots and a pair of .40 caliber "Gatekeeper" machine guns in the nose. Capable of up to 300 mph, the SABER easily keeps pace with its smaller sister ship and boasts nearly as much agility. McDonnell engineers are also watching out for pilot safety and have included a jettisonable propellor hub in case the operator needs to bail out.

Deployment:
Early production versions of the SABER have appeared in Dixie, Texas, and Hollywood and have evoked a favorable response from militia units operating in these sovereign states.

Pilots and Campaigns:
Since few Sabers have actually intered service there has so far been no notable pilot of a Saber that is worth mentioning.
---
Game Stats:
| | | |
| --- | --- | --- |
| | Game Points | Mass |
| Base Target Number | 6 | 5,000 lbs. |
| Maximum Speed | 4 | 1,600 lbs. |
| Maximum Gs | 3 | 1,200 lbs. |
| Acceleration Rate | 2 | 350 lbs. |
| | | |
| --- | --- | --- |
| Armor Points | 180 | 540 lbs. |
| Nose | 40 | 120 lbs. |
| Port Wing Leading | 30 | 90 lbs. |
| Port Wing Trailing | 20 | 60 lbs. |
| Starboard Wing Leading | 30 | 90 lbs. |
| Starboard Wing Trailing | 20 | 60 lbs. |
| Tail | 40 | 120 lbs. |
| | | |
| --- | --- | --- |
| Weapons | Arc | Mass |
| 50-cal. cannon | Gun 2 | 400 lbs. |
| 50-cal. cannon | Gun 3 | 400 lbs. |
| 40-cal. machine gun | Gun 1 | 250 lbs. |
| 40-cal. machine gun | Gun 4 | 250 lbs. |
| Cargo | none | 10 lbs. |
---
Back to aircraft section