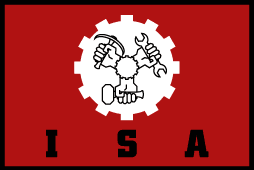 Industrial States of America
---
The Industrial States of America is the second largest North American Country and the second most populated. The ISA contains the former states of Ohio, Illinois, Indiana, Michigan, Wisconsin, and Minnesota. The ISA is the most industrialized nation of North America, the only other country in North America that can match it is The Empire States.

The Empire States reputation of being the chief trading center of North America is only true since all waterborne shipping into and out of the Great Lakes region is subjected to a heavy tariff imposed by the Empire States. Only Ontario's neutrality allows the ISA to get around this arrangement, though their tariffs are only marginally lower than that of the Empire States. The Rivalry that has grown up between the Empire States and the ISA can only lead to further conflict between these two great nations. The recent alliance between President La Guardia and that of the Black Swan, who will undoubtedly find lucrative targets inside the ISA, can only depend the rift that exists between these two states.

The ISA more than any other nation has a severe problem with crime. Crime lords, like Capono or "Machine Gun" Kelly, control there own Air Forces witch they use to flood the ISA with booze from Appalachia and Dixie in the South and Ontario in the North. Although the air units controlled by these crime lords are used primarily for smuggling of illegal goods it is not uncommon for them to raid the trading lanes of the ISA. In the cities the crime lords are protected by bought and bribed city officials causing extensive corruption in the government. This corruption renders the federal authorities virtually impotent when trying to battle these well entrenched gangsters.

---
Statistics
Name - Industrial States of America (ISA)
Capital - Chicago
Government - Democracy
Head of State -
Land Mass - 388,422 square miles
Population - 29,418,642
Prohibition Status - "Dry"
Major Exports - Manufactured Goods, Airplanes, and Airships
Minor Exports - Food Stuff
Major Imports - Food Stuff, Cash Crops, Helium, and Petroleum Products.
Minor Imports - Natural Resources
Aircraft Companies
Aeronautical Products, Inc. - Detroit and Washington Court House
The Aeronca Aircraft Corporation - Middletown
The Curtiss-Wright Corporation, Aircraft Division - Columbus and Dayton
General Motors Corporation - Cleveland and Detroit
The Ford Motor Company - Dearborn
The Globe Corporation, Aircraft Division - Toilet
The Goodyear Aircraft Corporation - Akron
Howard Aircraft Corporation - Charles
The Lemars Manufacturing Company - LeMass
Meyers Aircraft Corporation - Tecumseh
Northwestern Aeronautical Corporation - St. Paul
Taylorcraft Aviation Corporation - Alliance
The Waco Aircraft Corporation - Trov
Air Militia
1st Milwaukee Air Guard
The Windy City Challengers
Privateers
The Toledo Mudhens
Pirate Groups
Capono's Cavaliers

---
Back to map room.